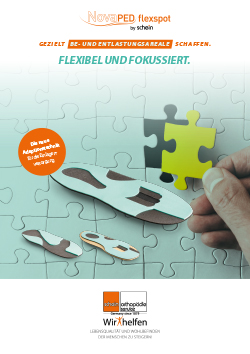 Flexible and focused: Novaped flexspot by Schein
Novaped flexspot is a new type of cushioning covers made of thin, delaminatable PU cushioning layers. These are divided into pre-cut, anatomically designed zones. The individual zones can be removed in layers by heating. By removing the pre-cut elements, specific loading and unloading areas can be created.
Our Novaped flexspot is available in three versions: SUB, ADD and SUB SOLO.
Novaped flexspot SUB
can be used wherever specific relief of plantar structures is required. The areas of the
Novaped flexspot ADD
increase the support function of the foot orthotics and can provide additional impulses. The two cushioning covers SUB and ADD are always combined with an pre-formed orthopaedic base from the Novaped range. The
Novaped flexspot SUB SOLO
is a cushioned insole for simple and effective pressure relief.
These latest developed cushioned covers enable an individual and at the same time reproducible supply of foot orthotics with comparatively little effort.
More information