History
The beginnings of the company date back to the year 1879, when Heinrich Schein senior produced orthopaedic treatments alongside his profession as a shoemaker. In 1926 production itself started, as did trade with medical foot supports, which he had patented for himself.

After the Second World War, Heinrich Schein junior and his wife Anneliese took over the business. From then, business success combined with continuous expansion distinguished the development of the enterprise. This also necessitated the construction of a new building for manufacturing and administration purposes which could be moved into in 1963 in Remscheid-Lennep in the Trecknase industrial area.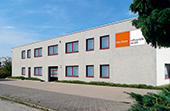 ATec-Shoes in Erfurt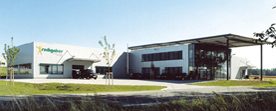 Ruckgaber
Son Klaus Peter followed in his parents' footsteps and took over as manager of the company after completing his vocational training as a rehabilitation technologist in 1967. At that time, roughly 50 people were employed with the company. With his knack for successful company policy and courage to launch into new things, over the years he built up a future-oriented group of companies. After taking over Ruckgaber Orthopädie Service in Rottenburg in 1997 and AteC-Shoes in Erfurt in 1999, Klaus Peter Schein extended his range of products by virtue of the fields of orthopaedic tailor-made shafts and orthopaedic materials. The son of Klaus Peter and Ulrike Schein, Arnd Schein, joined the company after completing of his vocational training in 1994.
Since 2001 the Remscheid-based company of F.W. Kraemer has belonged to the Schein group. This company can also look back on a long orthopaedic tradition.
This merger also required local changes, which could be allowed for by the purchase of a large plot of land in the industrial area of Jägerwald near the autobahn slip road of Remscheid.
The new company building with more than 23,000 square meters of administration and production facilities could be moved into in early 2004.
Arnd Schein, the son of Klaus Peter and Ulrike Schein, who had been working for Schein since 1994, took over the company in 2004 after his father's death.

New schein building in Remscheid in 2004
At the beginning of 2013, the wholly owned subsidiary of Schein, Ruckgaber GmbH from Rottenburg, took over August Brüggemann GmbH from Bottrop. A. Brüggemann GmbH was established in 1948 and initially focused on wholesale trade in leather and shoemaker goods. In 1981, the product spectrum was supplemented with specialist orthopaedic goods and moulding blanks.
Both companies – Ruckgaber and Brüggemann – rank amongst the leading suppliers of orthopaedic technology and orthopaedic footwear technology. Thanks to this move, and the planned merger to create Ruckgaber-Brüggemann GmbH, Ruckgaber is continuing to expand its position as a supplier of orthopaedic technology and orthopaedic footwear technology. Mr Arnd Schein and Mr Reiner Kaupp will take over at the helm.

RuckgaberBrüggemann Orthopädie Service GmbH in Rottenburg