Our Insole blanks > Novaped sensosystem
Sensomotor insoles for gait pattern correction
The range of application for sensomotor insoles has expanded significantly in recent years. With the help of this type of active insole, certain spastic malpositions and other functional symptom pictures can be treated in orthopaedic technician/orthopaedic shoe technician. Specific dynamic asymmetries can be compensated with a flexible insole instead of with complex passive orthotic aids.
The following function-based indications are predestined for such treatments:
• Internal or external rotations, both monolateral and bilateral
• Tiptoe gait
• Muscle hypertension / hypotension
• Foot malpositions such as planovalgus foot
• Paretic disorders with residual function
• Sport
- Tibial stress syndrome
- Mild foot rotation malpositions
- Medial collapse
In the NovaPED sensosystem, specific insole elements beneath the sole of the foot influence the motor system. Raised tone in muscles is thus lowered and the involvement of otherwise little-used parts of the foot in kinetic patterns is increased.

Beginning with a gait analysis, followed by malposition documentation, a trial insole is made to fit the diagnosis. In most cases, the effect of the insole is noticed after only a few steps. Further corrections can be made if the desired gait pattern has not yet been achieved. The final version of the insole is then copied from the trial insole 1:1 in the workshop.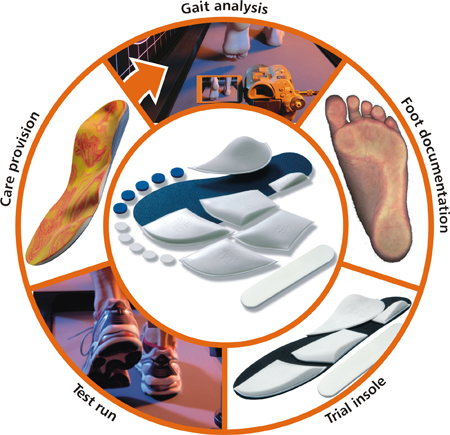 Gait analysis
Specific asymmetries of movement can be determined with the help of a gait analysis. Video cameras and/or the SCHEINWORKS treadmill can be used for this purpose, by means of which a practical equilateral overview of important gait parameters can be created such as foot rotation, leg position, step length and gait lines. Once the symptoms have been analyzed and foot palpation has been completed, a blue print or scan of the feet is also done. Having determined correct shoe size, a trial insole is constructed using the elements provided in the sensosystem case.
Trial insole
The case (1) contains white Velcro trial elements in approx. 30° Shore A in all double sizes from 23/24 to 47/48. They are individually ground to size before first application by the orthopaedic (shoe) technician (2). The elements are attached to a base sole designed for this purpose (3), which is available in flat or cup-shaped versions. Both base soles are covered with a thin fleece layer. The advantage of the Velcro elements is that they can be readjusted repeatedly until the final position is determined.
The case set also includes an exhaustive manual and software that provide helpful support in the first steps of sensomotor insole care provision.

Insole provision
In most cases, the influence of the insole is directly recognizable after a couple of steps. This is then documented using the measuring facilities provided and is used as confirmation of the mode of action of the insoles. At this stage, the trial insole can then be altered as desired. Once the final position of the elements has been determined, the individual sensomotor insole can be made in the workshop using the care set. All of the set components are identical with the trial insole; they can be transferred point by point and glued directly to the sole.
There is a choice of a flat (1) or cup-shaped (2) base sole. The cup form is used in cases of more pronounced malpositions. A transparent flat insole cutout made of Supralen (3) is also available, which can be placed directly over a foot scan or blue print.
Besides the white elements with approx. 30° Shore A, orange-coloured elements (4) in approx. 45° Shore A can also be ordered. All components can be readily glued and ground. Additional raising elements (5) are available if the insole requires reinforcement at specific points. The transitions, and the height of the individual elements, are worked out individually in the workshop (6).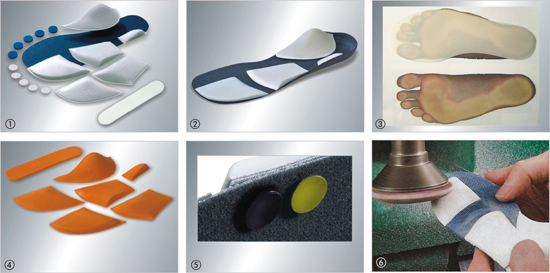 Examples of care provision
To improve wearing comfort, the insoles can be fitted with a cover material after they have been cut and ground to shape. The examples shown here are covered in ARU Batik cover material 1 to 2 mm thick (orange-yellow with wave pattern) and Leo Trevira BIOaktiv made of 50% polyester and 50% Trevira BIOaktiv (polyamide) with fixed integrated silver ions to meet the most stringent hygienic requirements.
NovaPED sensosystem case set
Aluminium case, contents:
• NovaPED sensosystem trial insoles with flat sole, sizes 23/24 to 47/48, with Velcro fleece on both sides
• Sensomotor bars in all versions for each size, with Velcro adhesion side
• 1 set of raising elements, 2 + 3 mm
• Manual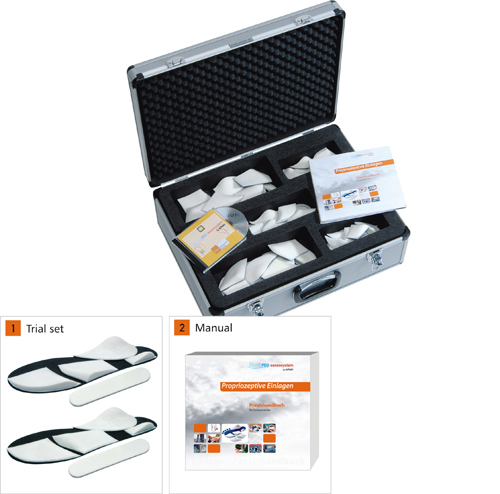 Code-Nr.
031500-000